waterproofing company in Lahore
Moisture Penetration has now become the domestic problem .Concrete ,iron ,plastic and other structure is facing water penetration problem.Our product and staff have confidence to fix this problem  .Unicorn Chemical (Pvt) Ltd is one of leading roof waterproofing company in lahore .We have been working in Pakistan since 2002.We have waterproofing solution for following things
concrete admixture

mortar repair

airport and flyover expansion joints

joint sealant

Swimming pool waterproofing

Control shed waterproofing

Roof waterproofing

Bathroom waterproofing

Kitchen waterproofing

Basement waterproofing
Polymeric waterproofing 
Unicorn Chemical (Pvt) Ltd is using variety of waterproofing materials .We are only roof  waterproofing company in lahore who has polymeric material dealership .Polymer is  water resistance material .We can use polymer material for different ways .It requires technical experience for application .Our technical staff has good experience in waterproofing.Polymeric method is suitable for any type of water seepage and leakage solution. Polyurethane is very sensitive chemical .One should be very careful before application.it is good for roof ,walls ,swimming and control shed waterproofing.
Bituminous coating waterproofing 
It is super  excellent protective chemical coating and waterproofing agent.Bitumen is classical product .Bitumen is flexible and proactive product.This method is basically coating of a flexible asphalt layer .In general practice we call it coal-tar.The most common applications of bituminous coatings include areas that are under screed wet.We are popular  roof waterproofing company in lahore.you can use Bitumen  on wall and roof areas for waterproofing .Bituminous coating is made of bituminous based materials and it is not suitable for situation expose to sunlight.It often becomes very brittle and fragile when long exposure to the sunlight .
Membrane Sheet waterproofing
Bituminous membrane waterproofing is a popular method used for low-sloped roofs.It is durable but costly method of waterproofing .Bituminous  membrane have torch on membrane and self-adhesive membrane .Self-adhesive compounds  comprise asphalt,polymers and filler; additionally, certain resins .Oils may be added to improve adhesion characteristics.The self-adhesive type has low shelf life because  bonding properties of the membrane reduces with time.Torch on membrane have exposed and covered types.our staff uses  .Torch seal is  for podium, external development .This is very common method used for waterproofing .Home owners  are unable to find best roof waterproofing company in lahore.But do not worry we have launched our product in Lahore.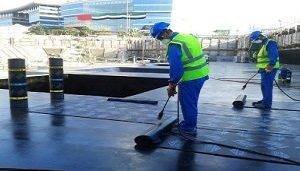 Injecting chemical waterproofing
This method is really helpful to overcome the seepage and leakage problem .in this method the we inject the chemical  in the wall.Chemical block the water leakage track .this is really suitable for interior wall treatment .We encourage the client to use injecting chemical method .Injection is often the most practical solution to restore the structural and/or waterproofing .Polymer injection is a process whereby waterproofing in lahore material  is forced.We use this method  when water flows through cracks in buildings.We also prefer to use  injecting method  when water penetrates a surface. the chemical grout encounters water or moisture, it expands to many times its original size.We use this method in concrete ,bricks and other structure.